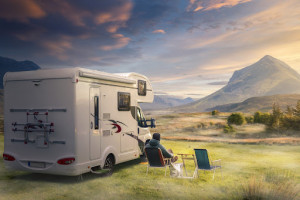 Hunting is one of the most popular pastimes across the country, with more than 101 million Americans participating each year. But let's face it, it's not the easiest hobby to pick up. It takes a lot of gear to really make it enjoyable, fun, and worth it. 
One thing that makes a season especially comfortable is a hunting travel trailer. This way you can go out each weekend to your destination, do your hunting but still be comfortable and have everything you need close to you. You can stay warm and be able to cook your meals much easier. It's a win-win situation. 
Choosing the right hunting trailer can be an overwhelming task but we've got you covered. We've made a guide with the top seven things to look for when you start your search. Follow along and we'll find you the perfect trailer for all your hunting needs! 
1. Sleeping Capacity Needs
In order to determine how big of a trailer you'll need, you have to figure out how many people will regularly need to fit inside. Think back to your current trips, how are they currently arranged, and would that be different if you had a trailer involved. 
Don't forget to factor in the hunting gear as well. The equipment, clothing, food, and other necessities take up quite a bit of space, so they shouldn't be forgotten when determining the size you need. The last thing you'd want is to get a trailer, use it once and realize it's going to be too small for what you need. 
2. Towing Abilities
When you're getting an RV, you have to consider the combination of the trailer and the vehicle to make sure they'll be compatible in regards to towing capacity. 
Some hunters choose their ideal trailer then find a vehicle with the ability to tow that. Others work the other way by getting the vehicle first and finding a trailer that fits within its towing capacity. Both directions work, it's just important to make sure you don't overwork your vehicle or you'll find yourself stranded! 
3. Length of Travel 
Another thing to consider with the combination of your trailer and vehicle is how far you're planning on traveling. This is especially true if you're planning on going for long distances.
It's also a good idea to consider where you'll be taking the trailer to park; to a paved campground or an off-road site for example. Trailers that are designed to go off-roading will have thicker tires, more solid axles, and have safeguards in place to protect them from damage. 
There are a lot of ways to use trailers, so you'll want to choose one thats design and features align with how you plan to utilize it. 
4. Weather Conditions 
Depending on what type of hunting you're doing, you may be camping out in the middle of the winter. If that's the case you'll want to make sure that your trailer has the necessary provisions to keep you warm. 
Thinking about all of the different weather conditions you'll be in, especially if you're buying during the off-seasons, can seem unnecessary. But it'll help you be as prepared as possible for whatever comes up as you're out hunting. You'll be able to stay cool in the summer and warm in the fall and winter!
Temperature control is really one of the biggest perks of a hunting trailer! 
5. Budget Considerations
Obviously, you'll want to make sure that your new hunting travel trailer fits within your budget. There are a lot of ways to determine your budget and decide what a reasonable price is but the most important part is that it's done before you start looking. 
Most people also need some financing options as well to help them make a major purchase like a travel trailer. These help you get the vehicle now and pay it off as you go, either through an outside lender or the dealership itself. The key is to look around and find the best fit for your specific financial circumstances. 
6. Required Maintenance 
Just like with any vehicle, a travel trailer requires regular maintenance in order to keep it running as well as possible. You want to make sure you're up to what will be needed in this department before committing to purchasing a new trailer. There would be no bigger waste of money than to purchase a trailer and then not take care of it!
An easy way to take care of it is to set yourself up with routine regular service options by a professional! 
7. Overall Status 
Before deciding which type of hunting trailer or choosing a specific one, take a good look at the overall status of the trailer. This is the time to make sure that the foundation of the trailer is solid and everything is in good repair. 
Little things can be changed down the road if they're not exactly how you'd like them. And you can add amenities to make it a more luxurious experience. But you want to make sure your basics are covered and solid so you know you won't be paying to fix those in a short amount of time!
Finding the best Travel Trailer for You
Investing in a hunting travel trailer is a big deal but one that will pay off tenfold when you can enjoy your whole hunting season so much more every year. You'll be able to make many more memories and have so many more experiences doing something you love. 
The right travel trailer is out there for you and we can help you find it. Working with a professional is the best way to narrow down your search and make the whole purchase process go much smoother. We can comb through our inventory to find the perfect fit, walk you through financing, and get you going on your next hunting trip as fast as possible! 
If you're interested in seeing what we have to offer and starting the search for your dream trailer, contact us today!