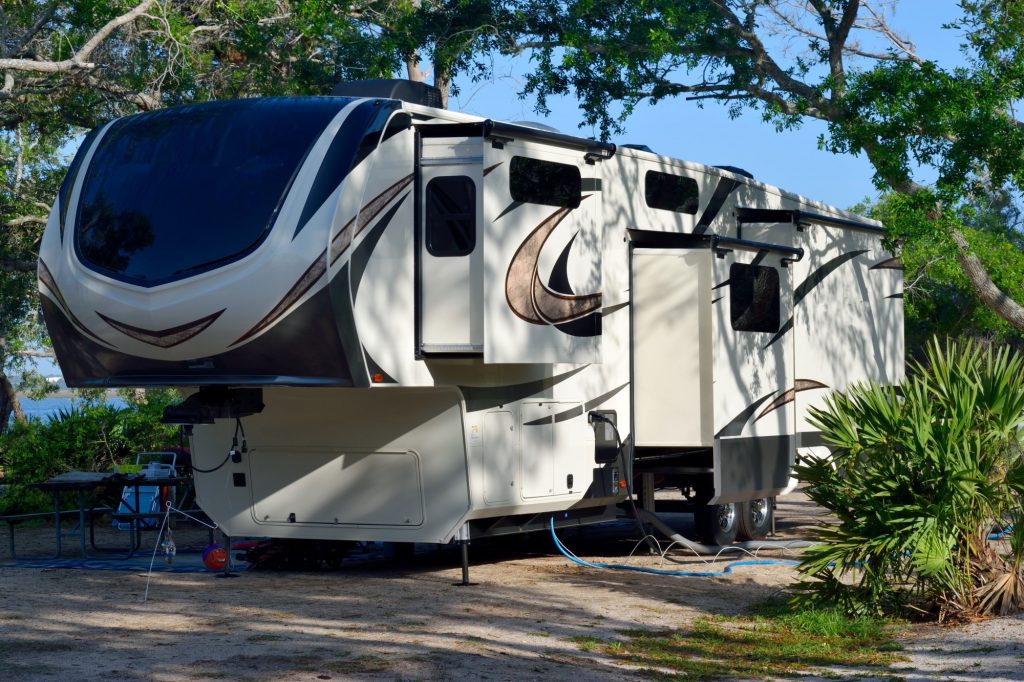 Mobile homes are becoming more and more common, with around 20 million Americans already living in one. Whether you're just looking for a relaxing holiday spot or a more convenient home, there are plenty of mobile home parks in Idaho to suit your needs.
You want to get set up in a mobile home park that feels safe and secure. You also want a sense of community, so you know you can knock on a neighbor's door when you need to borrow some sugar.
The right mobile home park should also feel like a home away from home. So if you're in need of a relaxing vacation, a mobile home could be just what you're looking for.
For a comprehensive list of the top fifteen mobile home parks in Idaho, have a look at the list below. But first…
Consider How an RV May Be a More Affordable Option
While mobile home parks have their advantages, they can also be crowded and, occasionally, overpriced. One option that offers all the advantages of a mobile home but with greater savings and freedom is a destination trailer RV.
Destination trailer lines mean you can take your home with you wherever you want to go. You'll find great RV park options all over the USA, especially in Idaho. So if you want a more affordable option plus a brilliant way to experience such a beautiful part of the country, have a look at these RV options.
1. Blue Valley Mobile Home Park
Situated right on the lakefront, Blue Valley is ideal for anyone who needs a relaxing getaway by the water. It's surrounded by some of the most stunning natural scenery in America, so you won't want to skip out on this one.
Blue Valley Mobile Home Park is close to everything you could possibly need for a getaway or for your new home. You'll find excellent dining options and recreation activities right on your doorstep.
The friendly management team will make you feel right at home. If you have any questions or concerns, you can contact them conveniently.
2. Rustic Acres
This mobile home park features every kind of amenity you could need. From its excellent clubhouse to a stunning picnic and BBQ area, you can find all you need at Rustic Acres.
There's an excellent sense of community at Rustic Acres. You'll find that everyone is respectful of the shared community spaces. But you'll also always find a friendly neighbor to gossip with.
Rustic Acres also has great access to RV storage, including destination trailers. Destination trailers can be cheaper than traditional mobile homes, making them a perfect alternative for those looking to save.
3. Stone Gate Mobile Home Park
You'll love Stone Gate for its quaint and homely feel. Completed with all the amenities you could need, you'll want for nothing after you get yourself set up here.
Close to a quaint little river, you'll fall asleep to the sound of running water and wake up surrounded by nature.
Stone Gate Mobile Home Park is also surrounded by some excellent local attractions. These include fun fairs and golf courses, so you'll find something fun to do with all the family.
4. Hampton Park MHC
Hampton Park MHC is the perfect Idaho mobile home park. Close to everything you could want, including cafes and shopping malls, you'll never want for anything once you get set up here.
One great feature of Hampton Park MHC is the Target just around the corner from your mobile home. It has great opening hours, so you never have to worry about running out of the essentials.
There's a great children's play area to keep all your little ones entertained. Pets are a welcome addition to the park and you'll find there's plenty of space for them to run around.
5. Western Village Mobile Home Park
This park is perfect for anyone over the age of 55 seeking a little refuge from the real world. It's age-restricted, so you won't have to worry about looking after little ones during your stay.
A good mobile home is the perfect way to get away from the hustle and bustle of everyday life. And, at Western Village, you'll be able to enjoy whatever kind of mobile home you bring with you in the most relaxing way.
One unique feature of Western Village is its library. Stocked with a great selection of books, take one down to the water to spend a day reading and relaxing.
6. Glenbrier Park
This is a great choice for anyone who wants to add a few more activities to their mobile home park stay. At Glenbrier Park, there are options for those who like a community garden, a green space, and even billiards. You'll never run out of things to keep you entertained.
Of course, there's something for those who just want to relax surrounded by Idaho's glorious nature too. This is an over 55 park, so you can enjoy some much needed peace and quiet.
For those going with the more comfortable destination trailer line option, Glenbrier offers storage for your vehicle. You'll get to enjoy all the perks of Glenbrier while settling down in your comfy and spacious RV.
7. Floating Feather M H Park
Floating feather is just what to look for in a mobile home park. It's generally quiet and always friendly, so you'll feel at ease from the moment you arrive.
For any of those who love spending time on the water, Floating Feather has excellent boat storage options. Located just 3 miles from the water, it's a perfect holiday destination.
8. Maple Grove Estates
Maple Grove Estates has one amenity many other mobile home parks don't; an excellent community pool. Lying by the warm, clean water, you'll feel like you're on an exotic holiday instead of a mobile home park.
You also have the added benefit of a great on-site management team who will be happy to help you in any way they can. And, with a clubhouse and a wide range of site activities, you'll never get bored.
Maple Grove is one mobile home park that offers RV and destination trailer storage. So if you go with the more affordable destination trailer option, you can still enjoy all that Maple Grove has to offer.
9. Homecrest Mobile Home Park
Homecrest Mobile Home Park is a great option for anyone who wants a community based on respect and security. An all ages community, you'll find Homecrest to be both relaxing and filled with activities to suit everyone.
Close to features such as the water, golf grounds, and well equipped parks if you want a day filled with fun you're in the perfect spot. Your new neighbors will be nice and friendly, and prioritize the same peace and quiet that you do.
10. Elm Grove Mobile Home Park
Elm Grove is a serene and scenic spot for any mobile home lover. It's perfect for all ages and can accommodate most mobile home types.
Known for being clean and quiet, this is the perfect spot for anyone ready to switch off their busy minds and just relax.
Elm Grove is a safe option for anyone seeking a little more security for their getaway. You'll feel totally at home in this calm, clean park, letting you get down to the most important thing: relaxing.
11. Coach Royale Mobile Home Park
A quiet little spot for those ready to settle down, Coach Royale Mobile Home Park can offer the serenity you're looking for.
All the regular amenities are included, so you won't ever have to go far to find whatever you need. There's also a great range of community activities frequently on offer, so if you need some company you'll find it easily.
12. Ponderosa Park
Ponderosa Park is a perfect mobile home park for any family. Featuring a playground, clubhouse, and other rec facilities, you and the kids will never get bored with the wide range of activities available to try.
This one is a little further away from the water, which may suit you if you're taking young kids with you. It's a really safe option surrounded by stunning nature to immerse you in the mobile home park style of living.
13. Alpine Wheel Estates
This is another great park for anyone over the age of fifty-five. With the age restriction, the mornings are quiet and the evenings are peaceful, and no little ones are running around to look after.
You're right beside the water at this park. Take a chair down to the lake and relax all day to the soothing natural sounds. You're also close to well maintained golf courses for those who enjoy a swing on the green.
The friendly management team can be contacted at any time to discuss their rate with you.
14. Sunflower Community Mobile Home Park
This senior community park is the best spot for anyone ready to leave behind the busy town lifestyle in search of a peaceful community.
You'll have access to a great community clubhouse to meet like-minded people who will be friends for life.
A super pet-friendly park, this one is also perfect for any animal family members you might want to bring with you.
15. Linden Mobile Park
Linden Mobile Park is perfectly located near shopping malls and parks, so you can keep as active as you choose.
You're also very close to the water, so you can enjoy an afternoon by the lake anytime you choose. Linden is very well maintained both by the community and the staff who look after it.
To Go to the Best Mobile Home Parks, You Want the Best Mobile Home!
The best mobile home parks should make you feel welcome and provide all the amenities you want. You want to feel like you're on vacation from the moment you book until the moment you leave.
But don't feel as confined to a mobile home as they are to the ground! Destination trailers are a great alternative to more traditional mobile homes. You'll have the combination of a comfortable place to rest and relax but also have the freedom to pack up and move as you see fit.
For more information on RVs as alternatives to mobile homes, check out this page. If you have any further questions, you can reach out to our helpful customer service team.