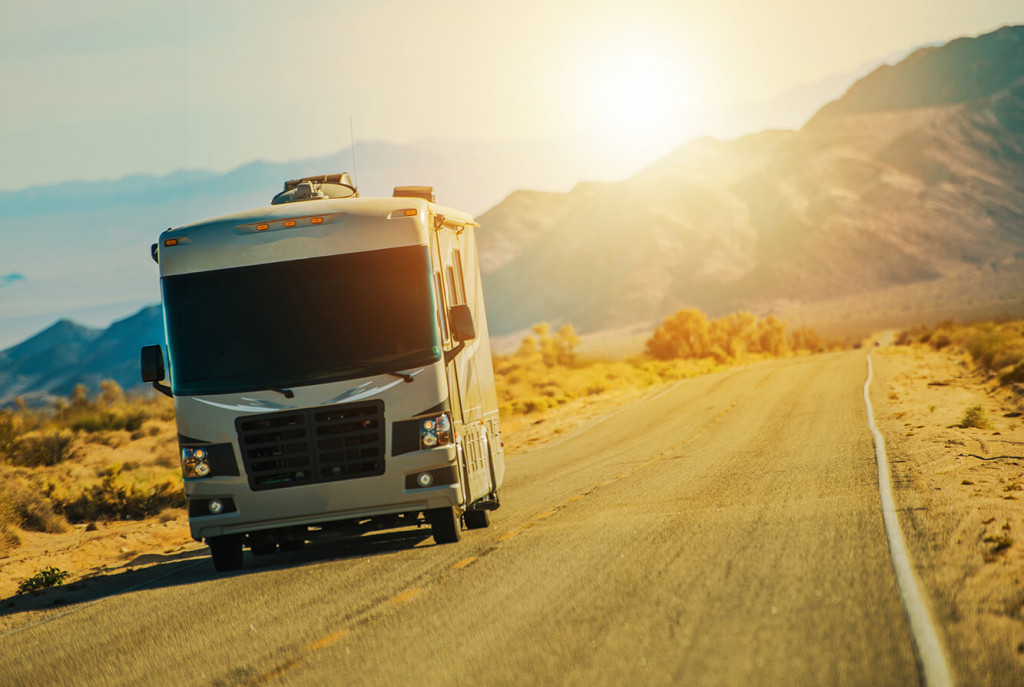 RVs have become exceptionally popular in recent years, especially with the COVID-19 pandemic. More people are looking for ways to travel without the cost of expensive resort hotels or the dangers of contracting the virus.  
As a result, demands for RV sales have been high. But luckily, the production of RVs has been even higher! 
RV manufacturers broke the industry record for RV production in October and have projected even higher numbers for December. That means there are more RVs on the market and more holiday RV sales than ever before.
So, if you're considering purchasing an RV for the holidays, you chose the perfect time.
Beyond special holiday pricing and high supply, winter is one of the best times to travel by road. Fewer people take trips, so the roads are less congested. The parks are much less crowded during the winter, too.
Now that you're convinced buying an RV for the holidays is the right way to go, we have lots of tips on how to find the right RV for you and get the most bang for your buck.
Keep reading for everything you need to know about this year's holiday RV sales.
How Much Is an RV, Anyway?
It wouldn't be the best guide to holiday RV sales if we didn't first discuss RV prices. The thing is, there's no easy answer to this question. RV prices vary by a number of factors.
Time of Year
To start, the time of year matters. You're going to find the highest RV prices in the spring and summer and the lowest RV prices during the winter months.
Winter and the end of the year are the best times to buy an RV. Fewer people are in the market for buying an RV during winter because the spring and summer months are the most popular for traveling, camping, and RV sales.
This means there is less market demand during the winter months. Yet, supply stays steady all year round. Less demand and steady supply mean lower RV prices and special RV sales events from dealers!
The end of the year is also a time when dealerships are trying hard to meet their annual sales quota. This means most dealerships will host special holiday RV sales (more on that next).
So, buying an RV during the winter holiday season is a smart choice. You're sure to get the best deal and you won't have to compete with the high demands of spring and summer–meaning you'll be even more likely to find exactly what you're looking for at a great price.
Holiday RV Sales
Holidays play a factor too. Just like all retailers, RV dealerships are likely to have special sales events around holidays such as Memorial Day, Independence Day, Black Friday, and Christmas. 
Some common holiday RV sales include MSRP discounts, rebates, buy-back incentives (such as getting more for your RV trade-in), and referral discounts. 
New Versus Used
Now, with seasons and holidays aside, prices will vary by whether the RV is new or used.
Buying a used RV from a dealership will cost anywhere between $20,000 to $80,000. The price depends on the year of the model, its size, as well as the condition. 
For instance, some used RVs may have recently been upgraded and/or service. If you find a used RV with brand new parts and features, you're going to pay more. 
Mileage is also a factor. The more miles the RV has been driven, the cheaper the price should be.
However, RVs are made to travel many miles across long distances. So, mileage isn't quite as important as other features (it's not the same as when buying a used car).
The cost of new RVs depends much more on the make and model.
Smaller new RVs like bunkhouse campers can start as low as $20,000. Whereas the larger new RVs (especially the motorized ones) cost over six figures. 
RV Prices by Type
RV prices vary by type of RV. Here is an RV price guide based on different RV types.
Travel Trailer
Travel Trailers are probably the most conventional and most popular RV types. Owners tow them with their personal trucks or SUVs.
Travel trailers range in sizes and floor plans making them suitable for any traveler. 
Travel trailers can sleep anywhere from four to 10 people and can be 19 feet to 40 feet long. Fifth-wheel travel trailers are the biggest in size, both in length and height. 
The smallest travel trailers are between $19,000 to $27,000 for both new and used. Gulf Stream, Sprinter, and Winnebago all offer smaller models that are light making them easier to haul while still providing the comforts and quality these brands are known for.
Mid-size trailers typically range from $20,000 to $40,000.These will be your 30 to 35 feet long RVs. Some popular brands offering mid-size travel trailers include Jayco, Palomino, and Keystone.
The largest (fifth-wheel) travel trailers are going to be the most expensive, costing anywhere from $40,000 to $83,000. These bad boys range from 37 to 45 feet long and are the heaviest of all travel trailer RVs. So, make sure your vehicle can haul the weight safely before deciding to buy a fifth-wheeler.
Toy Hauler
A toy hauler is a specific type of travel trailer designed for recreation lovers. They haul (hence the name) outdoor equipment and toys in a garage-like space.
The garage is on one end of the trailer while the living space makes up the rest. Toy haulers are easy to use for storage because they have a loading ramp, too.
Toy haulers can haul pretty much anything you need for your trip.
Dirt bikes, four-wheelers, snowmobiles, kayaks and canoes, side-by-sides, and more!
Anything you need to enjoy your time outdoors, a toy hauler can handle.
You can find toy hauler RVs in a variety of sizes including fifth-wheels. Since they have more to offer, they are more expensive than a traditional travel trailer. Prices go up to about $60,000 for a standard and $90,000 for a fifth-wheel toy hauler.
Destination Trailer
Destination trailers are travel trailers designed to stay in one place or be "semi-permanent." They are larger than most travel trailers and made to be small homes on wheels. This means they offer the comforts of a home more so than other types of RVs.
Destination trailers are typically more spacious, luxurious, and fully stocked with appliances. They have full living and entertainment spaces, full kitchens, and most have a kitchen island.
The cost of destination RVs averages between $40,000 to $70,000. 
Class A Motorhome
Motorhomes are RVs that drive themselves. There is no need to tow them with a personal vehicle.
This makes motorhomes slightly more convenient and easier to travel with compared to trailer RVs. They are perfect for travelers who want to explore many different locations without the hassle of unhitching/hitching and towing. 
Similar to destination trailers, motorhomes are designed to feel like a tiny house on wheels (or a motorized home like the name). They tend to be larger than most trailers and can be quite luxurious. 
Class A motorhomes look like buses and are larger than other classes of motorhomes. The driver area is not separated from the living spaces. So, drivers and passengers have access to the entire home while traveling the road. 
Prices of Class A motorhomes vary widely based on the year of manufacturing and the model's features. You can find used class A motorhomes for as low as $39,995, but newer motorhomes can be triple that price (or more).
Class C Motorhome
Class C motorhomes are smaller than Class A motorhomes and are built a bit differently.
Instead of a bus shape, class C motorhomes are built on a truck chassis. The driver space is what is known as a cockpit and is separated from the living spaces. 
You can usually recognize a class C motorhome by the "cab-over" space– a sleeping area located above the cockpit. 
Because class C motorhomes are smaller and lighter, they can fit in places Class A motorhomes can't. Plus, they still offer the conveniences of a home-on-wheels including a bathroom, kitchen, and living space.
Class C motorhomes are also more affordable than class A. You can find a used class C motorhome that is only a few years old for less than $75,000.  
Benefits of Buying an RV From a Dealership
Especially when buying an RV for the holidays, you'll want to go through a dealership. This way, you not only get the best deal on your RV but you can also trust that the product you are buying is quality assured and the price is reasonable.
Here are just some of the benefits of purchasing an RV through a dealership.
Quality Assurance
With a dealership, you can rest assured that your RV has been inspected for quality assurance.
All products sold by a dealer have to pass inspections and be fully serviced before they sell. Plus, you know that the RVs have been recently maintained with a dealer–something you can't prove when buying privately.
Warranties
Dealerships offer quality assurance and security you're much less likely to get from a private seller. For example, dealers will provide warranties in case anything happens to the RV. The life of your warranty will depend on the dealership and the RV brand, year, and model—at most places, anyway.
At Leisureland RV Center, we provide lifetime warranties on any RV made in 2019, 2020, or 2021. There's no catch! We cover all components including suspension, brake, water system, air-condition and heating, kitchen, gas system, appliances, interior and exterior, and manual leveling jack components. This includes 100% of parts and labor costs anywhere in the United States.
As you can see, going with a dealership that provides warranty coverage takes away the worry that can come with ownership. You'll know that your RV is safe and covered if anything should happen.
Financing
Let's face it, the holidays tend to be hard on everyone's wallets. Financing is an excellent option if you don't have the cash, or want to pay the total price, upfront. Only a dealership will be able to finance your new RV.
Applying for financing is a lot easier than you may think. Most dealerships just ask you to fill out a brief application and they will handle the rest.  
If you know you're going to need to finance your new RV, be sure to get pre-approved first. This will save you time and dealers will know you're serious about buying if you have already applied and been approved for financing.
Decide Between a New or Used RV
Deciding whether to buy a new or used RV can be tough. There are pros and cons no matter which route you choose.
Here are some of the largest benefits of buying pre-owned versus the benefits of buying a new RV.
Benefits of Buying a Pre-Owned RV
Of course, the biggest benefit of buying used is the price point. The pre-owned make and model will always be cheaper than the new version. 
Many owners upgrade their RV over time. This means that sometimes buyers can find used RVs that are just as updated and nice as the new models but for a much lower price.
There are also more options when it comes to buying used versus new. New RVs are limited to the manufacturer's output and this year's designs. Whereas used RVs can include essentially any design, floor plan, and features from past years.
Another thing to consider is how much money you can lose with depreciation. According to the National Automobile Dealership Association (NADA), new RVs lose approximately 20% of the value as soon as they are purchased. And the value continues to decline significantly in that first year after purchase. 
With a used RV, you'll save on cost and won't have to stress as much about depreciation.
Benefits of Buying a New RV
While a pre-owned RV may save you money upfront, it could end up costing you a lot more in the long run.
Used RVs are less reliable than new ones. For one, the parts are older and more worn, especially if the RV has a ton of miles on it. 
Secondly, many older RVs don't come with warranties, even if you're buying from the dealership. This means if something goes wrong, you'll have to pay out-of-pocket to fix it.
Another risk is not knowing how well the pre-owned RV was taken care of and maintained. While the dealership has to service and maintain the RV, long-term neglect by previous owners can cause future problems.
With a new RV, you won't have to worry about any of these risks. Everything on the RV is brand new and covered by warranty. If something goes amiss, you can simply take it to a dealer and they will fix it. You don't have to worry about the cost or the hassle. 
Another benefit to buying new is the modern features. Your new RV will have the latest technologies like USB ports, GPS, Bluetooth, and more. 
Decide Which RV Model Meets Your Needs
Now you know more about the types of RVs and their costs, and you have decided whether to buy a new or used RV. You're ready to figure out which RV model is right for you and your needs.
The first thing to consider is what you're going to use your RV for. 
Perhaps you're the adventurous explorer who has a lot of toys or outdoor equipment? Then a toy hauler is probably the best choice for you.
If you're planning to hunt or fish on your trip, then something smaller like a small travel trailer or Class C motorhome is a good fit. These will allow you to more easily squeeze into wooded spaces. Plus, the lighter RVs will be easier to drive through narrow paths and rugged terrain. 
If you're looking more for relaxation and the comforts of home away from home, then a destination trailer or class A motorhome is perfect for you. Whether you want to pop a squat in one space for some r&r or hop around without a lot of setup and takedown, a semi-permanent RV is the way to go.
Important Features
Next, you should consider the most important features of your RV. These will impact everything about the makeup of the RV.
Size
Size is super important. How many people do you plan to travel with? How many will sleep in the RV? How many beds do you need? This will help you decide the size and type of RV to purchase.
Weight
Weight is important for travel trailers that you will need to tow with your vehicle. Different styles of trucks and SUVs have different weight limits that they can tow. 
Be sure to check your truck or SUV to see how much weight it can handle before purchasing your RV. 
Floor Plan
Floor plan matters, too. RVs come with a wide range of different floor designs. 
Some have a bunkhouse in the front, others have full bedrooms in the rear. Some have outdoor kitchens while others have full kitchens inside with bar space. 
Be sure to check out all the different plans before deciding which RV to purchase. You'll know which plan feels right for you and your travel companions. 
Check Out RV Community Forums 
Another tip when buying a holiday RV is to check out what people have to say about them. One way to learn all about RV owners' thoughts and experiences is by reviewing online community forums.
There are community forums specifically for RV owners to discuss their experiences, ask questions, and provide advice to other RV owners or potential buyers. Some forums let you filter by topic, or you can simply google to find the forum you're looking for.
Perhaps you're looking for information about a certain RV brand? There are forums for specific RV brands on the web. Jayco, Thor, Keystone, you name it. 
Facebook is another great place to find groups for RV owners. Plus, social media platforms are good avenues for finding honest reviews, q&a threads, and RV sales.  
Trade-in Your Old RV
If you already have an existing RV and are in the market to upgrade, you can trade-in your old RV with the dealer to lower the price of your new RV! During the holiday season, this is definitely the way to go. 
Trying to sell your RV privately can be stressful and time-intensive. Plus, fewer people are looking to buy RVs during the winter, and the holidays are a time when most people are busier than ever meaning they don't have time to shop for an RV and you probably don't have a lot of time to focus on marketing, showing, and negotiating. 
Trade-in to avoid the hassle and stress, and be able to buy your new RV sooner.
One thing to note before you trade in your RV is its market value. You can check the value of your RV on the NADA website. 
The dealership should give you at least half of the NADA value in credit towards your new RV. 
Get Shopping for Holiday RV Sales, and Get On the Road!
With this holiday RV sales guide, you have all the tools you need to find the perfect RV just in time for the holidays. Now, it's time to get shopping!
Whether you're looking to buy new or used, small or large, we have an RV for you. We hand select every RV ensuring only the best options for our customers. And don't forget about our lifetime warranty guarantee!
We also offer financing on both used and new RVs, no matter what your current credit status looks like. We will be sure to find a plan that works for you and your budget. 
Check out our inventory online and contact us today to schedule a time to tour our RVs for sale. We will help you find exactly what you're looking for so you can get on with your next adventure!