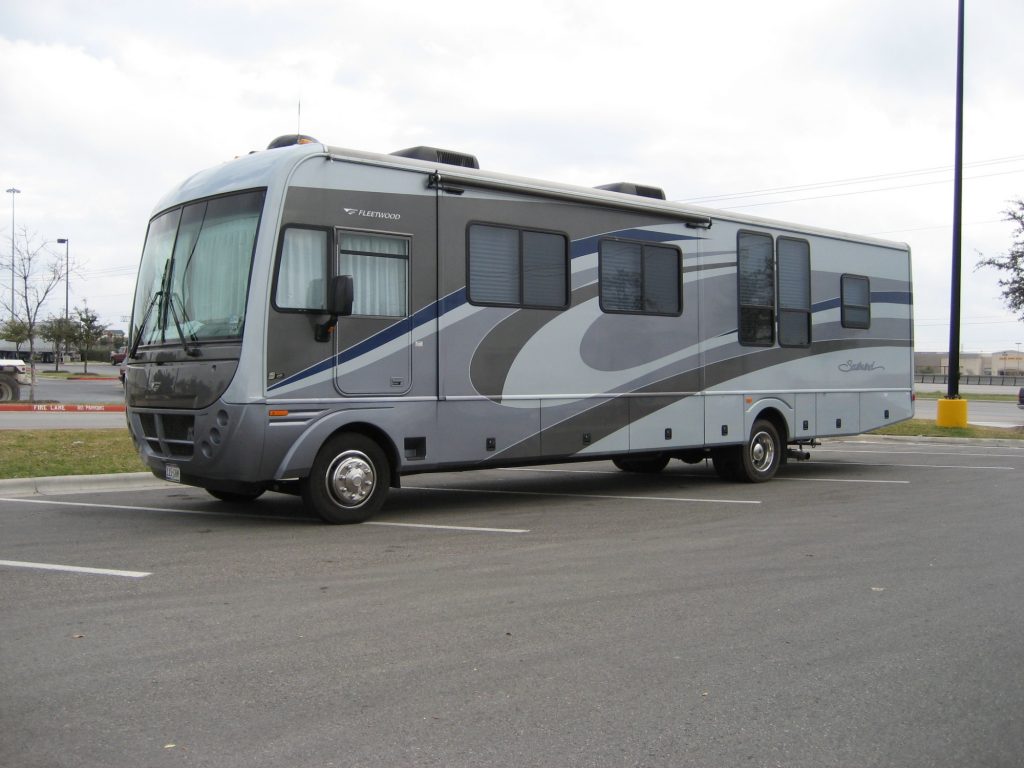 It is estimated that around 8% to 9% of US households own an RV. Revealing the fact that many people are interested in making this kind of investment.
Many people tend to start thinking about owning an RV once they are in their 50s. This is an investment that many people dream about as RVs are so popular.
There are all kinds of types of RVs that people may be interested in buying. It is a substantial investment, but one that may be worth it for many people who want a little adventure in their life.
But there are many RV classes that you should first look into. Keep reading to find out what is a class A RV and if it is an RV that you should consider buying.
What Is Considered a Class A RV?
If you are unfamiliar with motorhomes, you may not know what a class A RV is. This type of RV is a self-propelled motorhome that uses either a gas or diesel powertrain.
Their design is on a basic chassis where living quarters are then built onto it. They are well known for being a luxury RV option as they have such nice interiors.
Class A RVs are very large and designed to be fully livable in all conditions. They are considered to be an RV that you could comfortably live in full-time.
These motorhomes usually look like a very large bus, which holds the living area. The design is different from a class C RV which features a cockpit and separate living area.
If you are trying to decide between a class A or C RV, the class A RV is much larger. Providing a better option if you want to have all the comforts of home in an RV.
The design of a class A RV is sleeker, making it one of the nicer-looking types of RVs. This design also allows it to have more interior space throughout the RV.
It can also accommodate 4 to 6 people and has a towing capacity of up to 20,000 pounds. Making this a very strong and efficient option for full-time RV living.
What Are the Benefits of a Class A RV?
There are many advantages to buying a class A motorhome. When compared to other RVs, this is a very versatile option that offers comfort and adventure.
One of the most obvious benefits of owning a class A motorhome is its size and capacity. These are huge motorhomes that can comfortably fit up to 6 people, even at night.
They have all the basic necessities and are often designed for comfort. Because of this, living in one of these campers will feel like a luxury.
The towing capacity of this RV also allows you to easily tow a vehicle behind you. This is ideal for camping trips when you may want a smaller vehicle as well.
That or you could tow a small boat behind you for more adventurous camping trips. These RVs are also known for having one of the largest holding tank capacities.
The driving and living spaces are not separated, creating an open floor plan. Because of this, everything feels more spacious and allows you to communicate with other passengers.
The amount of interior features that a class A motorhome could have is endless. Some even accommodate washers, dryers, and other basic home appliances.
So there are many upsides to owning a class A RV for comfortable traveling and camping.
What Are the Downsides of a Class A RV?
One of the most common complaints that people have about class A motorhomes is their size. This is also a benefit, but it can make driving it a bit difficult.
Driving such a large camper can be difficult, as you have to consider the length. Parking it can also be a challenge as it is both long and tall.
You may not be able to fit into certain parking spaces or under certain awnings. This can limit where you can park your RV if there are not enough accommodations.
Because of its size, this RV is going to move a bit slower, resulting in slower stops. It will take some practice before you feel comfortable driving such a large camper.
Aside from these practical aspects of owning a class A RV, they are also expensive. In fact, this is the most expensive type of RV that you can buy.
Buying this type of RV is going to be an investment as you look for class A motorhomes for sale. You can find some lower prices, but it is still going to be quite substantial.
Though if you plan on living in this camper full-time, it could be a money saver later on. As it will be equipped with all of the household necessities that you could want.
What Is Class A RV Interior Like?
Depending on the motorhome that you get, the interior is going to be different. This is because different manufacturers have their own styles for the interior.
Some motorhomes are going to have more appliances or more luxury features while others don't. But most class A RVs are going to have most of the basic necessities.
Such as a fridge, microwave, going area, bathroom, seating area, and sleeping space. The more luxury features, the more expensive this camper is typically going to be.
The layout is very open, so it feels spacious like a home. Things will be lined up against the walls, while the floor plan allows for an open strip for walking.
Some campers may have tile floors with modern and sleek furniture. Though some may be more basic, offering comfortable space for living in without too much fuss.
There is usually a sleeping area, with the potential for a second sleeping space to accommodate more people. The bathroom is spacious with a toilet and separate shower.
With a class A motorhome, you have everything that you need to live comfortably. Depending on your budget, you may be able to have more specialty features too.
The average length of a class A RV is 45 feet long to accommodate all of these features. It also typically has a maximum weight capacity of 55,000 pounds.
How Much is a Class A RV?
If you are wondering what is a class A RV, this is a high-end RV option. Because this is such a comfortable camper, these RVs are going to be quite an investment.
Motorhomes for sale already tend to be quite pricy, as they have a lot to offer. But class A motorhomes for sale are going to be the most expensive options.
If you are going to be buying this camper new, you are looking at spending $100,000's to $400,000. Some luxury models of class A RV may even go over $400,000.
These are high-end RVs, and that is reflected in the price. They are suitable for full-time living due to all of their features for additional comfort.
They also come with a generator that helps to power the RV and appliances. So you have all of the comforts of home within your RV no matter where you go or how you plan to use it.
Of all of the RV classes, this is the most luxurious option to choose from. This is an option for those who are serious about campers and want the best possible option.
Is a Class A RV Worth It?
Buying a class A RV is no joke, as this is a large investment. It is one of the best RVs and is going to have a lot to offer if you can afford this option.
That being said, it is not going to be ideal for everyone. If you do not have a large amount of money to pay for it, you may be digging yourself a money hole.
You should have a significant amount that you can pay upfront so that your future payments can be lighter. You should also plan on really getting a lot of use out of this RV.
If you just want an RV for vacations, this may be too great of an investment. A class A RV is best for people looking to live in it full-time or spend a lot of time in it.
This is why many people who buy class A campers have retired and looking to travel most of the year. When you do this, you will be getting your money's worth out of the RV.
Types of RVs: What Is a Class A RV
If you are wondering what is a class A RV, you are not alone. Many people are interested in this type of RV and what it has to offer.
Do you want to invest in an RV for traveling? Contact us today at Leisureland RV Center for class A motorhomes for sale.