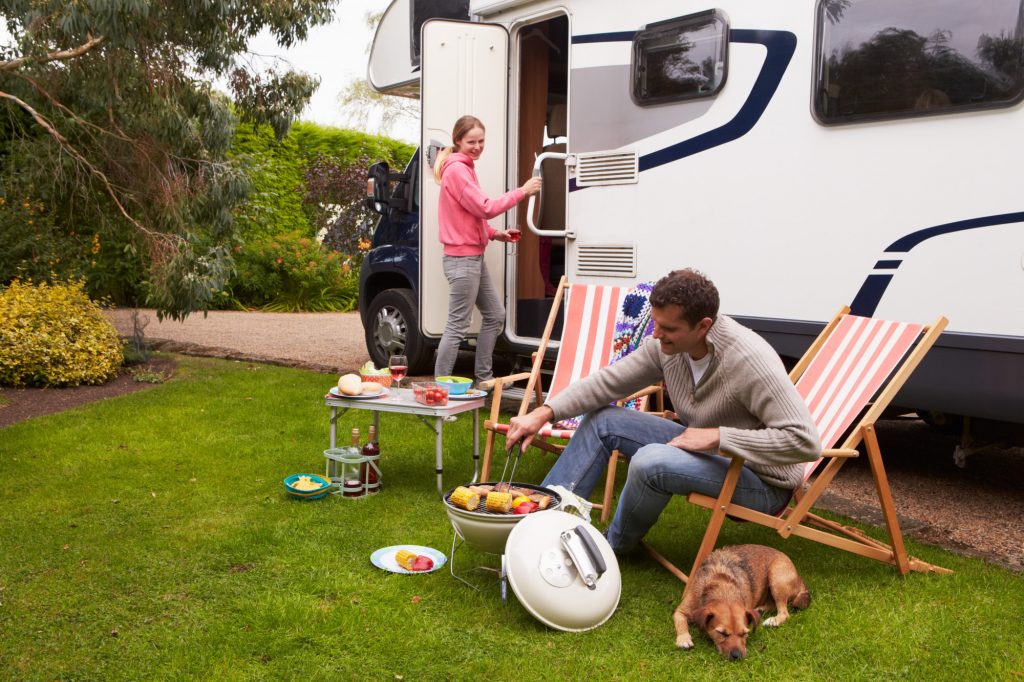 Almost 9% of all households also own an RV, while many more have the intention of owning one. Many also have hopes of eventually living in their RV.
The desire for people to move out of their homes and live in an RV is only continuing to grow. The van life lifestyle is very appealing to many and has created a huge following.
People are drawn to the freedom of RV life and adventure. But there are also practical aspects that you need to consider.
Such as where can I park my RV to live? As well as where you can get access to free RV parking.
If these are questions that you have, keep reading to find the answer to where can I park my RV to live.
Workkamping
Workkamping is a popular option amongst those who live in their RV. When Workkamping, you sign on to work at a location where you can get free RV parking.
These jobs are usually available at parks, venues, campgrounds, etc. They allow you to get hired to do a specific job with the bonus of RV parking.
These job opportunities offer pay as well as a place to park your RV. Many times they can be found all across the US if you enjoy traveling.
National or State Park Host
If you are wondering where can I park my RV to live, a national or state park is a great option. You can get a job as a host at one of these parks and get a free parking spot.
Being a park host could be a dream come true as you get to work at a beautiful park. All you have to do is check-in guests and make sure things are running smoothly.
For the most part, this is a very relaxed job that allows you freedom. You get to travel to beautiful locations and earn a living while living rent-free.
Keep in mind that many people want these hosting jobs. So you will have to really stand out to snag one of these positions.
Federally Owned Land
Federally owned land or the bureau of land management is a good place for RVs. These are large areas of land that are available to the public to use for camping.
The downside to this free option is that there are no hookups on federally owned land. You will have to supply your own water, electric, and sewer accommodations.
Make sure you do not dump any waste when you are staying here. This is not allowed and could get you in some trouble if you are caught.
You also need to move on after 14 days on federally owned land. There is a time limit to keep people from locating indefinitely to these areas.
Membership Clubs
Membership clubs can be a great option if you want to travel around. These clubs host a network of camping locations that you can stay at if you are a member.
The amount t of money this costs will depend on the club that you decide to join. Some offer more benefits and locations, creating a higher fee to join.
Though this can be one of the best options for overnight parking for RVs. You will have access to a variety of parks so that you can travel without running out of places to stay at.
Amazon Campforce
Amazon Campforce is a program that Amazon has in place for those living in an RV. You can get a job working at an Amazon warehouse and delivering Amazon packages.
Amazon provides you with RV parking, and you even get a reasonable salary. This is not an RV parking for rent option as the parking is completely free.
You have to be willing to do the work and deliver those Amazon packages. This is a great opportunity to help you earn a living while living in an RV.
County Parks
County parks are is an RV parking for rent option for those needing a place to stay. These are parks that many towns will have available to passing RV goers.
These are some of the best RV parks as they are all over the US and offer reasonable rental fees. They are not usually free unless you become a park host.
County parks are typically for overnight parking for RVs. Though you should be able to stay longer if you pay for each day that you are there.
Friends and Family
Another great option for RV parking is to park on your friends or family's property. As you travel, you may want to visit friends and family along the way.
Many people would be happy to make space for your RV if they live in an area where there is room. This can give you a place to park for as long as you need.
Not only is this a free option, it can give you a rest from driving. Many people choose to do this to break up long RV trips as they spend time with loved ones.
Though you should make sure that where you park is still legal as different areas have different regulations.
Harvest Hosts Locations
Harvest Hosts is a type of program offered by wineries, farms, ranches, and other venues. Allowing RVs to park at these select locations for a period of time.
A Harvest Hosts membership allows you to stop at any location within the program. You usually get one night free and are expected to buy a souvenir from the location.
Approved Businesses
Though most businesses are not going to allow RV parking, some do. Businesses like Cabelas and Bass Pro Shop allow RVs to park in their business parking lot.
Keep in mind that this is not meant to be an actual camping location. These businesses only allow RVs to stay for overnight parking so that you can rest.
Not every location is going to allow this, so you will need to double-check. You can do this by calling the location you are nearest to.
Discount RV Clubs
Going to discount RV clubs are a great way to find affordable places to park. You often have a set fee that you have to pay, which allows you to stay at a variety of RV clubs.
These parks will often provide all of the RV necessities at a very affordable price for longer stays. Though some clubs will have restrictions that you need to look into.
When you join a club, you have access to parks all over the US that you can stop at.
Boondockers Locations
If you are wondering where can I park my RV, Boondockers is a great option. Boondockers is similar to Harvest Hosts as it offers a variety of locations.
You can park at these locations if you have a Boondockers membership. Though you usually can only stay for one night for free before having to move on.
RV Plots
If you do not plan on traveling in your RV forever, you may consider getting a plot. You can do this by buying an actual plot of land to park your RV at.
If you are living in an RV, this can really be an ideal option. Rv locations, as well as some parks, allow you to buy a plot for your RV.
Once you do that, you will only need to pay for the use of utilities when parked there.
Is Living In an RV Cheap?
Living in an RV doesn't have to be very expensive at all. Many people live in their RV specifically because it can be a cheaper way to live.
How much this costs you is going to depend on where you are parked. Are you parking at scenic places that are more expensive or at cheaper parks?
You can also significantly save money if you join a discount RV club or have a membership. If you do not plan on traveling much, the cheaper option would be to buy a plot.
People who stay in cheaper locations could pay as little as $200 a month for their RV lifestyle. While others in more desirable locations may pay $800 or significantly more.
These numbers don't reflect the cost of utilities or basic necessities that you still need. This is because you should always look at your greatest expense first, which is parking.
Where Can I Park My RV to Live Legally?
If you are wondering where can I park my RV to live, there are many answers to this question. There is a huge variety of places that allow RVs to park.
The option that you go with will depend on your lifestyle, budget, and where you want to go.
Do you want to start living in an RV? Contact us today at Leisureland RV Center for all kinds of RV options in Boise, Idaho.