Leisureland RV Center Owners Named Small Business Persons of the Year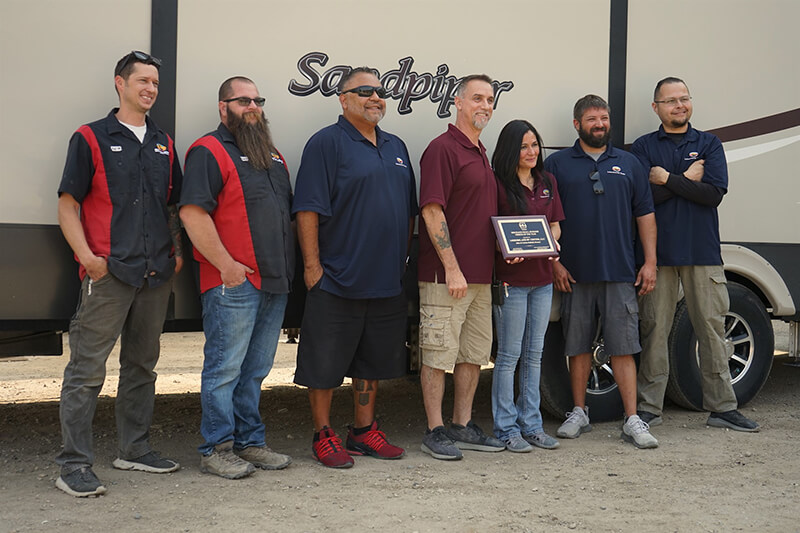 Led by military principles, recording explosive growth and generous support for the community have distinguished John and Carina DeHoff as Idaho Small Business Person of the Year, and the couple wish to extend that recognition to the entire Leisureland RV Center team.
John and Carina DeHoff, owners of Leisureland RV Center in Boise, and the company were presented with the award Tuesday, Sept. 22 by the Small Business Administration as one highlight event during National Small Business Week. The award is given to the owners of one small business annually.
"We want to say thank you for all your efforts. Especially in a year with the coronavirus pandemic, it's even more vital for small businesses to support their employees but, more importantly, support their local communities and you guys have been outstanding," Shannon Madsen, deputy district director, said during the event.
John and Carina DeHoff opened Leisureland RV Center in November 2014 following John's medical discharge from the military. He was serving in Mountain Home. The idea to open up an RV restoration and sales business came from a project accomplished early in their marriage.
Carina had an aged green-and-white Fleetwood Wilderness travel trailer, and she asked her husband if he could fix it up. Handy with vehicles, John agreed. By combining each of their expertises, John says, they reconditioned that travel trailer, put it on the market and sold it in two days.
"We were like, 'That was fun, let's do it again,'" John DeHoff said while giving a tour of the facilities. Employee desks are tucked through the main office, featuring parts and products, and further behind is a garage bay hosting multiple RVs at different stages of reconditioning.
The company guarantees the RVs are reconditioned to be operational as if it was just purchased from the manufacturer. In 2018, the company included selling brand new RVs.
"No one else does what we do," John DeHoff said. "Everybody truly cares."
Leisureland RV Center was recently recognized on the Inc. 5000 list, touting 222% growth over the past few years. John DeHoff recalls in year three (around 2017), the company made $3.8 million.
"Employee growth is especially important to the SBA," Madsen said. "We're here to support local."
Leisureland RV Center takes pride in being the largest independent industry company in the area, John DeHoffsaid, and that it remains a debt-free company. John DeHoff said he and Carina didn't take a salary for years, getting by on his military retirement and work Carina was doing.
Since then, the company has also been recognized with a congressional award from Idaho Senator Jim Risch as a veteran-owned Idaho Small Business of the Day in 2019.
John and Carina DeHoff give much of the credit for the company's success to their staff.
"This represents the culmination of efforts for the entire team on what we do day in and day out," John DeHoff said during the award presentation. "Carina and I are eternally grateful for the effort that each one of you put into this."
"And we're damn proud of the team that we have because each one of you brings something very unique and special to this organization," he added, "and that's not just lip service. It really truly is."
By: IBR Staff September 29, 2020
Click here to view the original article.